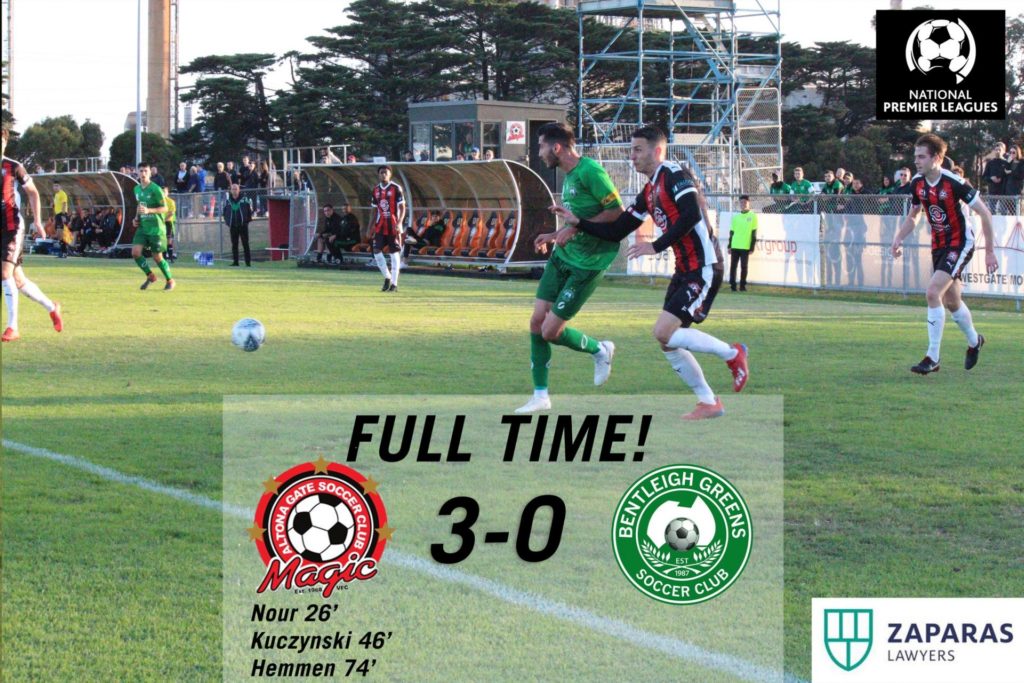 SAM BOYD
Bentleigh made the journey across the West Gate on Friday night to take on Altona Magic at Paisley Park. For the Greens it was a chance to capitalise on the momentum gained from their 3-2 victory against Oakleigh from the week before and for the hosts it was a chance to consolidate their position in the middle of the NPL table. Bentleigh went into the game with a largely untried line-up with under 20's player Marios Gerondaras deputising at right-back.
Altona got proceedings under way after 26 minutes with their first real foray forward. Winger Sami Nour got on the end of a ball across the area and spectacularly beat Ryan Scott with a flying overhead kick from the edge of the area. Bentleigh winger Arnold Suew then had a effort cleared off the line shortly after. The sides went into the sheds at half time with the score in the Magic's favour at 1-0.
Immediately after the restart Altona made it 2-0 when Daniel Kuczynski's effort took a deflection off Bentleigh skipper Jack Webster and found the back of the net. Altona then made it 3 on 72 minutes when an on rushing Ryan Scott misjudged a ball played over the top and allowed Michiel Hemmen in behind who tapped into an unguarded net. The score finished at 3-0 with the Greens failing to trouble the Magic goal.
Post match, coach John Anastasiadis said that the match proved a good opportunity to blood youngster Marios Gerondaras and that he was very pleased with his performance. "…I think the positive today is that we have discovered another right back. He handled (the pressure) very well, I was a bit nervous at the start of the game, but he did well, his opponent got taken off so he did his job, I can't be disappointed with the boy."
Next week Bentleigh travel to Olympic Village to take on Heidelberg United on Saturday night.
Altona Magic 3 (Nour 26′ Kuczynski 46′ Hemmen 72′) Bentleigh Greens 0