Bentleigh Greens Head Coach Petr Tichy raring to go for Season 2023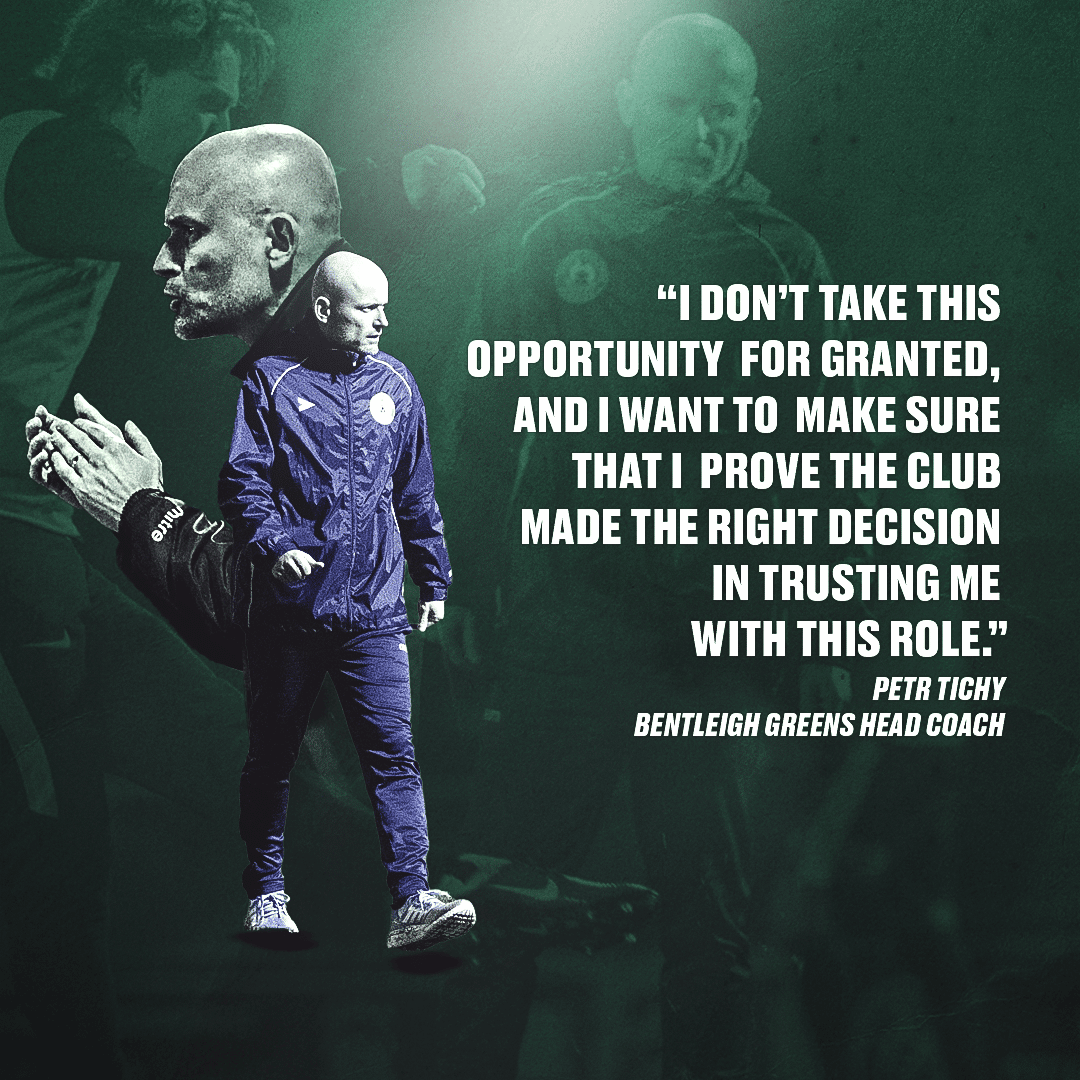 Petr Tichy is a man on a mission as he looks to commandeer the Bentleigh Greens to glory in the 2023 National Premier Leagues Victoria campaign as the Club's Head Coach.
Having played a critical role in the assembling of the Club's new-look first-team squad, Tichy is excited to take the reins as he looks to ensure the Greens' proud winning tradition continues long into the future.
Tichy was confirmed as the Club's Head Coach, following the departure of Alfredo Costantino, who had to relinquish his role at the club to pursue a prestigious Professional Football Licence Course in Florence next year.
"When the opportunity came up, it was a big pleasure for me as an aspiring coach to be able to take this opportunity," he said.
"I don't take it for granted, and I want to make sure that I prove the Club made the right decision in trusting me with this role."
Tichy was a natural choice.
He formed a part of the coaching staff that secured a Dockerty Cup triumph and finals football in 2022 and has had a hands-on role in recruitment this off-season, playing an active role in the scouting and analysis of prospective and realised new signings who have been brought to the club.
With a host of experienced NPL Vic campaigners joining a stable of Greens players who know all about Bentleigh's proud winning tradition and an eclectic mix of hungry, young players looking to make their mark in arguably Australia's strongest and most competitive football competition, Tichy is delighted with the squad he has at his disposal.
"We've brought in a bunch of good, young players that complement what we already had," he said.
"We have that proven experienced, mixed in with some guys in their early-to-mid 20s who have a bit of experience and then some youngsters who will be looking to make their mark when they get a chance. It's a good, healthy balance."
Balance was definitely the operative word in the Greens' approach to recruitment this off-season as the winds of change blew through Kingston Heath.
"Every good team needs a balance of experience and youth, so we wanted to strike that balance as well as keeping in mind what we were looking for in terms of their individual strengths and what they can bring to the overall unit," he said.
"We've got a strong core of experienced players from our goalkeeper and the centre of defence and into our midfield, so that gives us some great qualities to build around.
"In the wider and attacking areas, we have some younger players with that raw creativity and that fearlessness I want our team to have going forward."
Tichy said he had two distinct philosophies he wanted to impart to his players.
"In defence, I want to make sure we've got good distances between our lines, and we're compact," he said.
"But when we win that ball, I want us to be able to build our attacks from the back and progress into a fearless attack so that we're attacking on the front foot.
"I like my teams to be proactive and get at their opponents when they're out of shape."
Tichy was full of praise for his players and the manner in which they have handled the changes at the club.
"I don't want to single players out because I think it's been a collective effort, but as a group, I've been so impressed with the professionalism the players have shown and the effort they've made to gel with one another," he said.
"We've built some of that into our training sessions – by having a more social component to some of our warm-ups – and we've ensured to get the boys together for some dinners and lunches, because I'm a big believer that the better the boys know each other and get along off the pitch, the harder they will work for each other on it."
The acquisition of much-loved club personality and coach Pat Thompson has been another crucial win for the Greens.
"When we were looking at options in terms of who we could bring in, Pat was an option and the more I researched the more it made sense to have him," he said.
"Pat was a part of the glory years with Johnny A, and he has a great reputation around the NPL for the relationship he has with the players he works with and his ability with respect to video analysis and editing.
"He will help us plan and prepare for our opponents thoroughly and I'm very excited to have the skillset in our dressing room."
With the Greens playing their first friendly games of the season in the coming weeks, Tichy said the focus pre-Christmas was very much on laying the platform for the players' fitness for the gruelling campaign to come.
"Before Christmas, it's about building the battery to have the capacity for what's to come," he said.
"After Christmas, there will be a bit of a focus on getting that fitness back up after the break and then much more focus on the tactical side.
"The season comes around quick, especially for us with the Community Shield, but we'll make sure we're prepared."
The Greens kick off their 2023 campaign with the traditional curtain raiser against Oakleigh Cannons in the Community Shield (Date, Venue & Time TBC).
Our league campaign starts at home on 17 February, when we welcome the newly promoted North Geelong Warriors to Kingston Heath for a 7.30 PM kick-off.
Check out our full league fixture HERE.