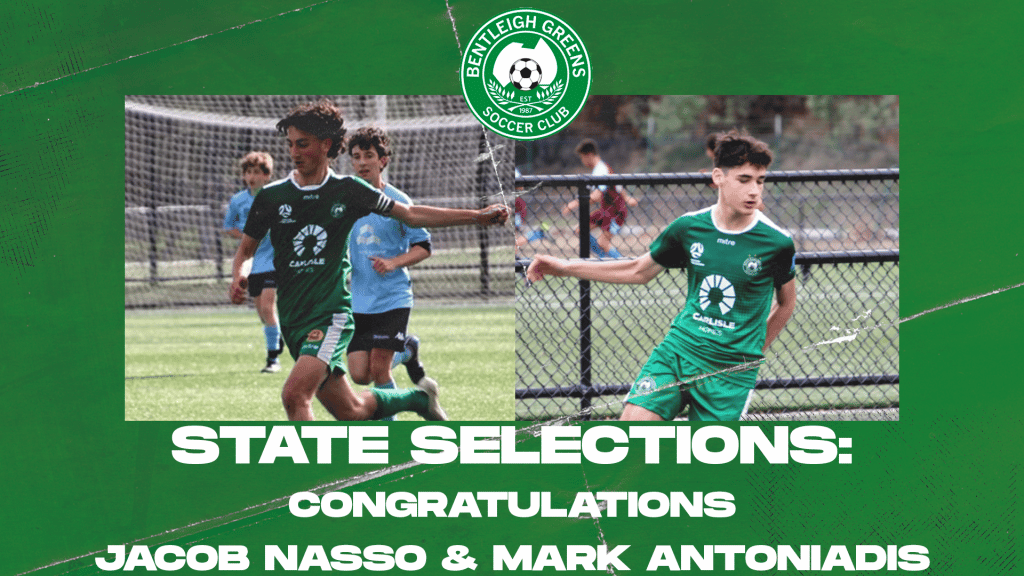 Bentleigh Greens are proud to see two of our players selected for the Victorian squad that will go and compete at the National Youth Championships at Coffs Harbour.
The Greens would like to congratulate Jacob Nasso and Mark Antoniadis on their selection for the Victorian under-16 squad.
Both players have been ever-present in our Division 1 under-16 side, selected to play a part in all 20 regular season games this season, as well as being a part of various other squads throughout the season.
Junior Technical Director Frank McGrellis said the duo had been outstanding contributors to their U16 team at the Greens, so much so that they had earned recognition within the club as well.
"Mark was called up to play half a dozen games or so with the under-18s, and Jacob was named as a substitute for our Australia Cup game against Sydney FC," McGrellis said.
"Jacob had been training with the senior team and even came off the bench for the under-21s.
"And obviously outside of the club, they've earned recognition by getting into the TIDC and now the Victorian team."
McGrellis said it was always pleasing for the club and its technical staff to see players selected for such honours.
"We're just proud that they are a part of our club, and we're proud that we've played a part in their development to this point," he said.
"Over the JBNPL journey and since the A-League academies have come in, we've seen 10 or so players sign on with A-League sides as well, so as  Technical Director and for our coaching staff, it's a record we're very proud of."
The 2022 National Youth Championships will be the first since 2019  after the 2020 and 2021 editions were scrapped by the COVID19 pandemic.
The National Youth Championships (NYC) have returned after a two-year hiatus due to pandemic interruptions. In September, state teams will converge on Coffs Harbour to fight for the coveted national crown.
The National Youth Championships are Football Australia's main national youth event, and they are an essential element of the talent discovery programme and the national team pipeline.
Many current Socceroos and Commonwealth Bank Matildas played in these championships and 2022 will hopefully be no different, with numerous athletes destined for selection to the youth and senior national teams.
The Greens would like to wish Nasso and Antoniadis all the best at the Championships, which run from 26-30 September.