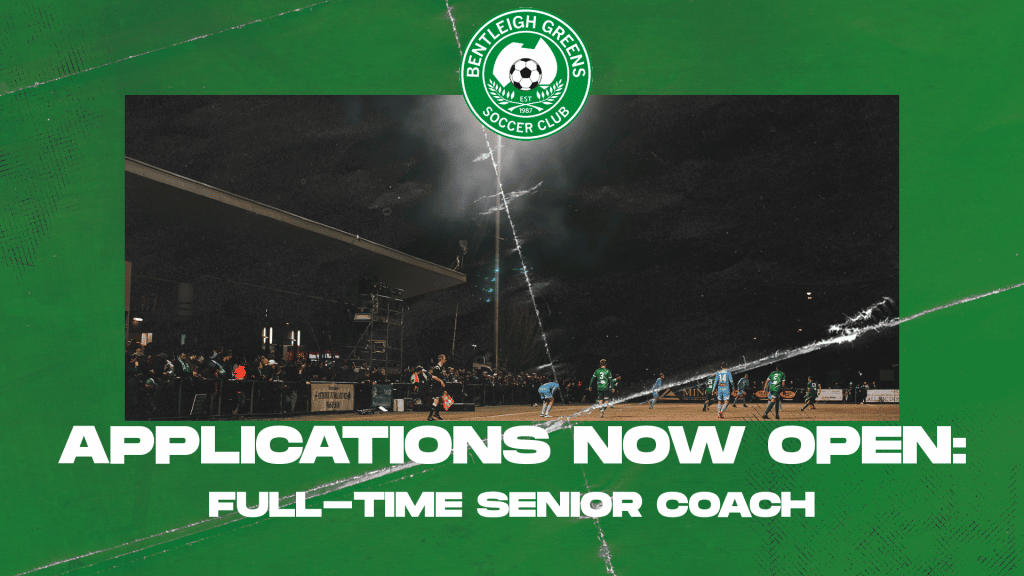 The Bentleigh Greens are now accepting applications from A-Licensed, professional coaches eager to take on one of the most exciting jobs in Australian football as the Bentleigh Greens Full-Time Senior Coach.
The Bentleigh Greens have earned a reputation for playing exciting, attacking football and have enjoyed immense success whilst doing so.
In 2023 and beyond, the Club has decided to make the Senior Coaching role a full-time position, putting the successful candidate in a fantastic position to lead the club's senior football department and take a hands-on role in scouting and analysis.
With magnificent facilities and supporting infrastructure, as well as a junior NPL program that saw all four teams qualify for Division 1 in 2022, the future is bright at Bentleigh, representing a fantastic opportunity for coaches looking to dedicate their professional life to football.
The Club is committed to supporting our Senior Coach with a strong playing list, with a number of the league's best talents under contract, and a healthy budget for new additions.
Bentleigh is looking for a full-time professional coach that will:
Have possessed an A-License for a minimum of four years
Have a minimum of five years of head coaching experience
Lead the Club's Senior Men's Team.
Lead the Club's NPLV coaching team, with the assistance of the Club's Football Director, develop coaching capability throughout the Club, Seniors, U21's, U18 etc
Mentor/Develop Junior NPL coaches, run Development Programs and Regular Coaches Education sessions
Liaise with Board/Football department, set goals, report on performance
Recruit Players from Victoria, National and International levels
Scout NPL and other Leagues to identify talent and attract them to the Club
Analysis of matches, Preparation for  Opposition, Coordinating VEO /GPS Data, analysis
Manage Roster and Points system
Support the Club's Technical Director role, provide IP/Curriculum
Be available to Club's media leadership/ represent Club in the Market
The Club welcomes interest in the role from ambitious and experienced coaches with a vision and strategy to lead the Club to newfound glories in the competitive NPLV division, the Australia Cup and Dockerty Cup.
The Club invites applications from candidates and is willing to partake in informal discussions with interested parties to discuss, amongst other things, the scope of the role, innovative ideas for the role and the club, remuneration packages and their ideal coaching support set-up.
To apply, please send an email to the Bentleigh Greens Football Department with your CV and Cover Letter to the club at info@bentleighgreens.com.au