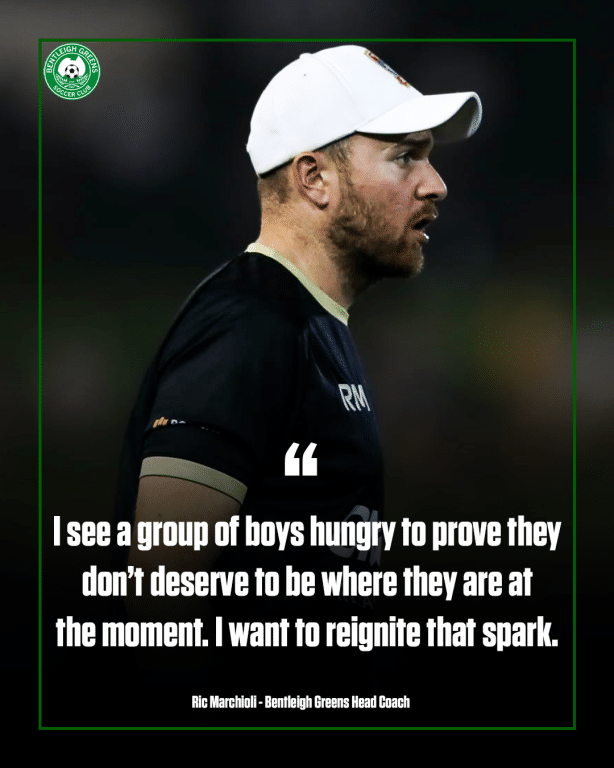 New Bentleigh Greens Head Coach Ric Marchioli has hit the ground running as he looks to help his squad find their spark and reignite the Greens season.
Marchioli arrived at the club this week and has been working hard to learn more about his players and his squad and there's one thing that is beyond doubt for the new Greens coach.
The boys are hungry to prove their doubters wrong.
"It's a group that wants to prove they don't deserve to be where they are at the moment," he said.
"It's a group that is full of energy and has a strong willingness to start moving in the right direction.
"For me, I'm trying to give the group and each individual a stronger purpose than just winning. Winning is an entry-level requirement.
"I want to reignite that spark."
Marchioli said he was committed to playing football that would have the punters lining up to watch the Greens at Kingston Heath, and was confident that if they could do that, success would follow.
"There's a proven legacy at this club that shows you can win trophies and win them playing a certain way," he said.
"We're working on some small details that will help us find that more holistic purpose and bring us closer to playing special football."
Marchioli – an avid football fan as much as he is a coach – has never stopped watching the NPL Victoria competition and says he has studied Friday night's opponents at length.
"I've watched St Albans extensively, so we will be well prepared."