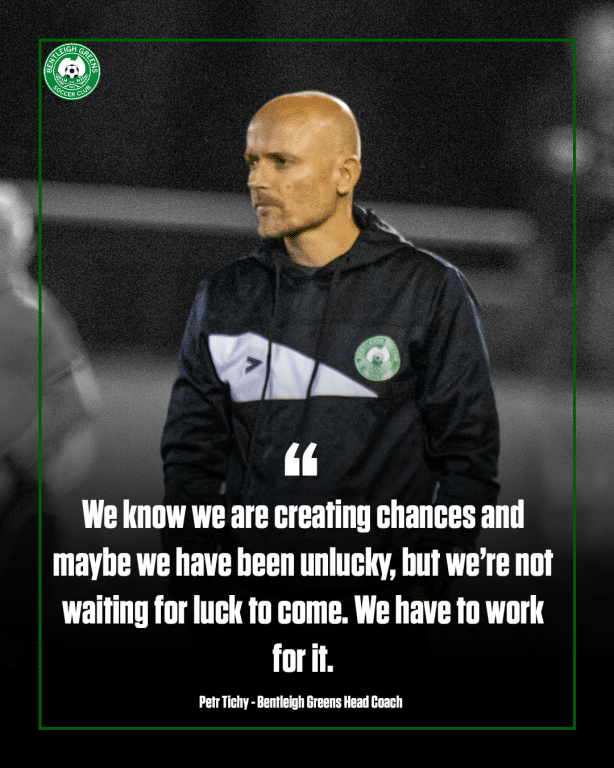 Bentleigh Greens Senior Men's Coach, Petr Tichy, says his team can't rely on luck to get them out of their barren spell.
"We know we are creating chances and may have been unlucky, but we're not waiting for luck to come. We know we have to work harder for it," he surmised.
Tichy is remaining positive ahead of their upcoming game against Dandenong Thunder, despite the team yet to earn a point this season.
Reflecting on their last game, which saw them play most of the match with ten men after defender Ben Carrigan was sent off, Tichy said, "It's a brutal punishment that we had to deal with.
"I can't doubt the effort of the boys, but we made it harder to do ourselves with the red card."
Despite this setback, Tichy praised the team's ability to stay in the game and create chances, even hitting the crossbar, adding that they are ready to "finally get some points" against Dandenong Thunder.
Tichy also provided insight into their upcoming opponents, saying, "I watched them the last two games. They tried to play football. They're not as direct as they used to be a couple of years ago, and I thought against South Melbourne, they played really well, even with 10 men, so they will be fired up to make up for the points they lost last week against us."
Tichy stressed the importance of maintaining a positive mindset for his team and working hard to create opportunities.,
"We are obviously not happy with the results, but I'd be more worried if we weren't creating chances," he said.
"You go through these things in life, in football, in work, where things aren't going your way. But we are creating chances, we are showing our quality in moments, and at training, the boys look hungry, and they have the quality, I can see it.
"So my confidence comes from what I'm seeing. All the things going against, the penalties, the red cards, it's not making the boys go into their shells, it's making them work harder, and that's what we need to do."
The Bentleigh Greens will face Dandenong Thunder on Friday, 17 March, at Kingston Heath Soccer Complex, with kick-off at 7:30 PM.