Match Preview: Bentleigh Greens welcome Broadmeadow Magic to Kingston Heath in Australia Cup action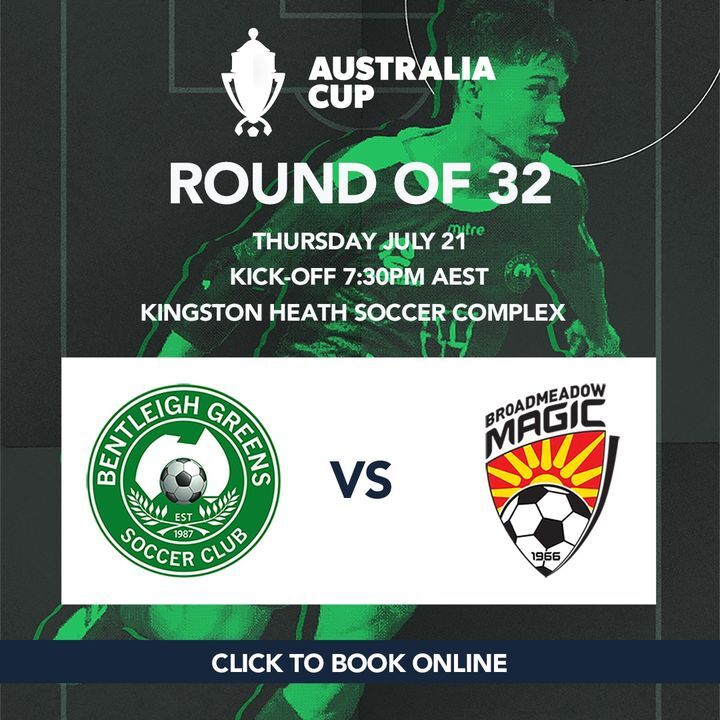 The Bentleigh Greens will embark on yet another run in the national rounds of the Australia Cup when they welcome Broadmeadow Magic from Northern New South Wales NPL to Kingston Heath on Thursday night.
This will be the second time these two proud clubs have faced off in the Australia Cup, previously facing one another back in 2018 in the Round of 16.
On that night, the Greens triumphed 4-0 courtesy of a hat-trick from Chris Lucas and a goal from Tyson Holmes.
Of course, both sides will be wildly different from the ones that faced off in Newcastle on that night and this time, it is the Northern New South Wales team that will be making the trip down to Victoria to take on the Greens.
The Damian Zane-led Magic finds itself in third place after 14 games this season, but come into the Australia Cup contest on the back of two losses on the bounce.
Facing an arduous task of having to play two games in four days, Zane has had a difficult task in balancing the need for league results and needing to prepare for a tough contest in Melbourne.
A 2-1 loss to Lambton Jaffas last Wednesday (13/07) and a 1-0 loss to Weston Workers on Saturday (16/7) represents a tough run-in for the NNSW side.
BROADMEADOW MAGIC: AUSTRALIA CUP CLUB PROFILE

Club: Broadmeadow Magic
State: New South Wales
Home ground: Magic Park
Founded: 1966
Australia Cup Final Rounds appearances (inc. 2022): Six
Best result: Round of 16 (2018)
Head Coach: Damian Zane

Road to the 2022 Round of 32:
Mayfield United Junior SC 0-17 Broadmeadow Magic
Valentine FC 1-3 Broadmeadow Magic
Coffs City United 1-3 Broadmeadow Magic
Maitland FC 1-2 Broadmeadow Magic
The Greens have had an equally busy schedule.
They endured a tough contest last Tuesday night but triumphed 2-1 over Heidelberg United in the Dockerty Cup semi-final, before a taxing come-from-behind 2-2 draw against Dandenong Thunder on Saturday night.
BENTLEIGH GREENS: AUSTRALIA CUP CLUB PROFILE

Club: Bentleigh Greens
State: Victoria
Home ground: Kingston Heath Soccer Complex
Founded: 1986
Australia Cup Final Rounds appearances (inc. 2022): Five
Best result: Semi Final (2014, 2018)
Head Coach: Nick Tolios

Road to the Round of 32:

Bentleigh Greens 4-1 Werribee City
Bentleigh Greens 2-1 Altona Magic
Bentleigh Greens 3-0 St Albans Saints
Bentleigh Greens 3-0 Banyule City
Coach Nick Tolios said the focus post-game was on recovery and tactically preparing for something of an unknown quantity in the Magic.
"We're training Monday and Wednesday and we're just looking to focus on our recovery," he said.
"Broadmeadow look a well-coached team and they have an ex-player of ours in Keanu Moore, and an in-form striker in Jack Dowse who has been banging in the goals (11 goals in 14 games)."
Tolios said he hoped to see a trademark bumper Australia Cup crowd at Kingston Heath and called on Victorian football fans to rally around the clubs that will be representing the state in the national rounds of the competition.
"I think it's a great occasion for anyone in Victoria who loves football," he said.
"And it's not just us as the Greens. I think Victorians should be supporting all of our NPL clubs that are competing at this stage.
"We have an incredibly strong competition here and some fantastic clubs that are representing us on the national stage, so we hope we can get a good crowd at Kingston Heath and we hope that's reciprocated for all of our Victorian counterparts in the competition."