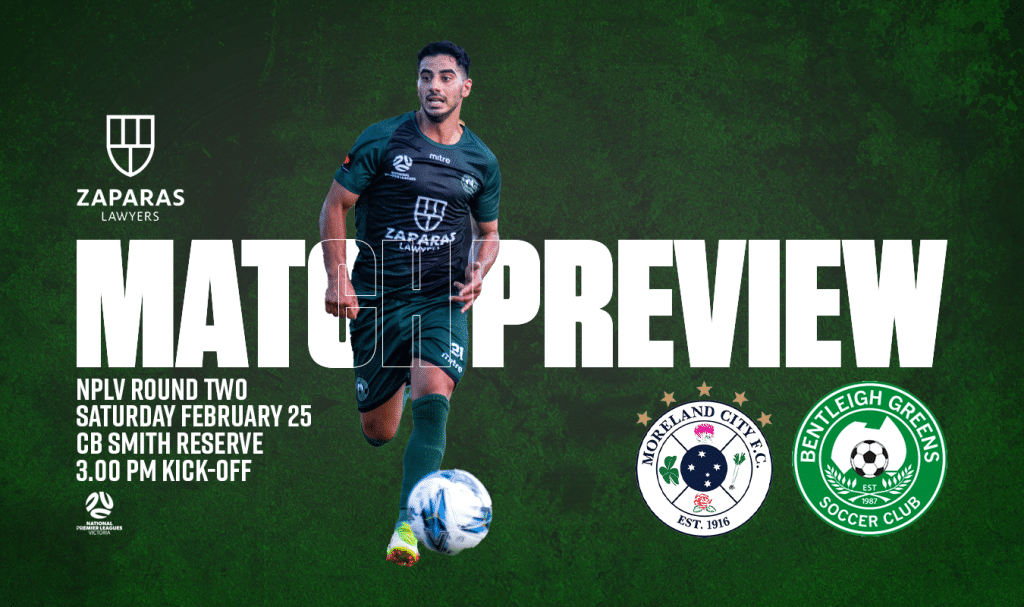 The Bentleigh Greens are gearing up for their second game of the NPL Victoria season, as they prepare to take on Moreland City on Saturday 25th February at CB Smith Reserve.
The Greens will be looking to bounce back from their opening round defeat to North Geelong Warriors, where they created several chances but couldn't convert, ultimately losing 3-1. The Greens will be counting on a strong team performance to get their first win of the season.
Moreland City is another newly promoted team, having clinched the NPLM2 title in 2022. They kicked off their NPLM campaign last Thursday against South Melbourne, losing 2-1, despite taking the lead via James Hooper who scored in the 47th minute.
Head Coach Adrian Mathers said that it's been a "long time coming" for the club to make its return to NPL1. He also spoke about the excitement associated with playing at the highest level.
The newly promoted club has signed several players for the season, including James Hooper from Runcorn Linnets (England), who will lead the charge up front, with League One, League Two, and National League experience. Jaiden Brown has also joined the club from Sunshine Coast Wanderers, who will help take control of the backline. The new arrivals also include Birhan Elibol (Hume City), Kur Arob (Melbourne City), Chudair Thurgiath (ex-Heidelberg and Bentleigh Greens), and Noah Calamatta (Bentleigh Cobras).
The Greens will need to be wary of Moreland's attack, and also be prepared for a strong defensive effort from the newly promoted side.
The Greens will be hoping for some good news on the injury front.
Club Captain, Ben Carrigan, made a notable difference when he came onto the park last week, making two crucial defensive interventions and providing a strong drive from defence and the Greens will hope to be able to have Carrigan in the starting lineup come kick-off.
Experienced defender Scott Hilliar missed the game entirely last week, whilst Bon Scott, Aydin Mustedaagic, Thiak Kuel and Luka Ninkovic are all on the injury list.
Despite the final result on Friday night, the Greens undoubtedly created the best chances of the game, and Senior Coach Petr Tichy will want to see an improved cutting edge from his side in the final third, to avoid regretting any further missed chances.
The game promises to be an exciting one, with both teams eager to prove themselves in the top-flight of Victorian football. The Greens will be counting on their fans to make the trip to Melbourne's north for the game.