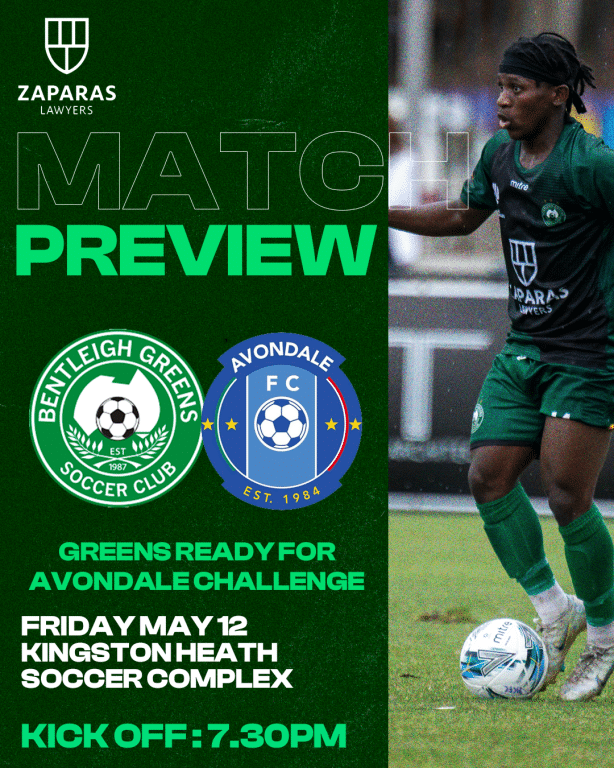 The anticipation is building as the Bentleigh Greens gear up for an electrifying clash against Avondale FC under the Friday night lights at Kingston Heath. The stage is set for a thrilling encounter between two teams with contrasting seasons thus far.
While the Greens have faced their fair share of challenges, their recent performances have shown signs of a resurgent side ready to turn the tide. With points becoming increasingly valuable, the Greens are determined to turn improved performances into points and make a statement against the league leaders.
Avondale FC has been a dominant force in the NPLVIC this season, boasting an impressive record with 10 wins out of 12 games. However, a recent loss to South Melbourne showcased potential chinks in their armour, providing the Greens with an opportunity to expose any vulnerabilities.
With the home advantage on their side, the Greens will look to unleash their attacking prowess and test the Avondale defence. Every goal-scoring opportunity will be crucial, and the Greens will rely on their skilled offensive players to penetrate Avondale's backline and find the back of the net. The Greens have been guilty of spurning golden chances all season, and they will know that every chance against the Avengers will be crucial to getting the three points.
The atmosphere at Kingston Heath is expected to be electric as the Greens faithful flock to their home turh to spur their team on, and the Greens will need every ounce of support and energy they can get from the stands as they face one of their biggest tests of the season.
As the battle unfolds, the Greens will be spurred on by their desire to climb the ladder and close the gap on their rivals. The Avondale clash represents a chance to make a statement and propel themselves up the NPLVIC ladder.
Get ready for a scintillating display of football as the Greens take on Avondale FC in a thrilling Friday night encounter!