Zaparas Lawyers Match Preview: Greens take on Cannons in 2023 Charity Shield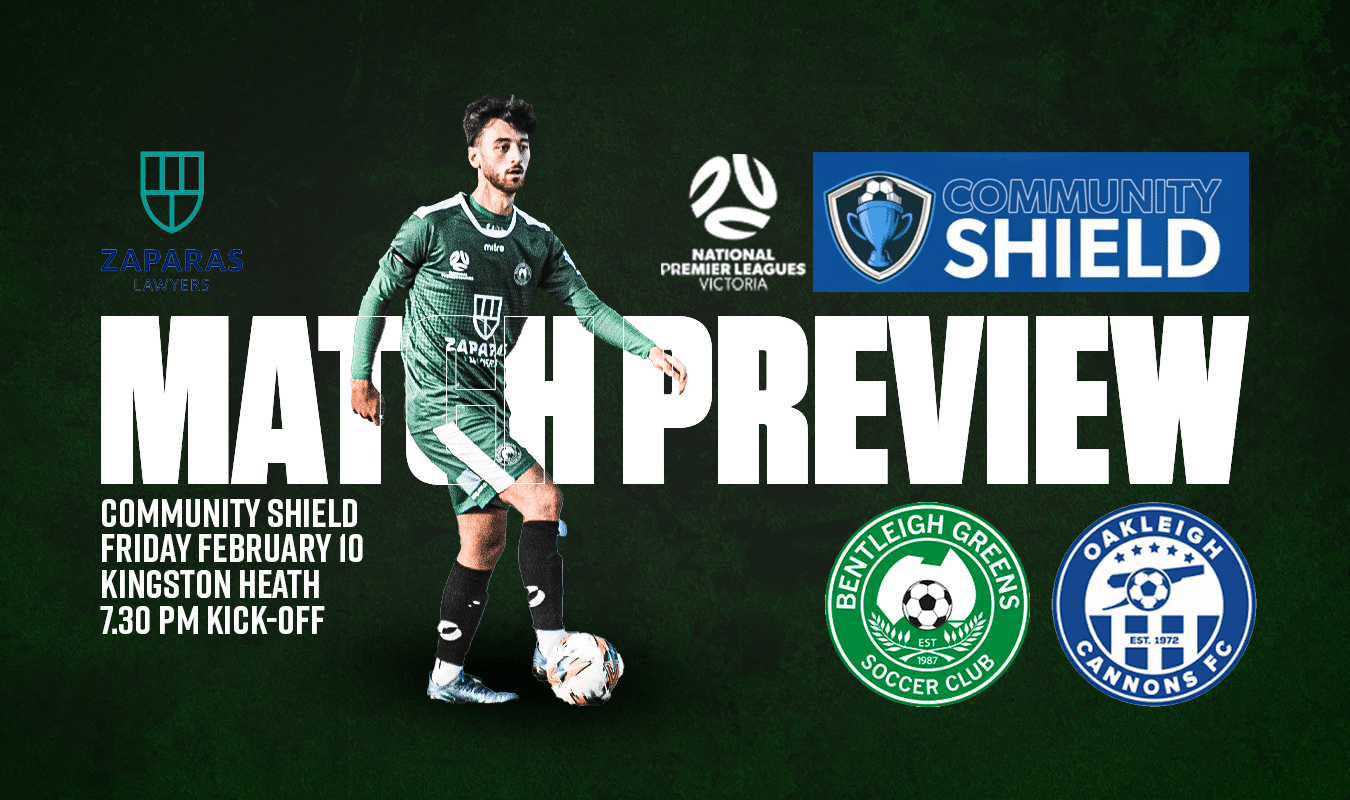 The Bentleigh Greens will once again be taking part in Football Victoria's curtain-raiser as they take on Oakleigh Cannons in the 2023 Community Shield.
The game will be contested in familiar surroundings for the Greens, with Kingston Heath Soccer Complex as the chosen venue for the game, and Bentleigh will be hoping to claim the Shield for the fifth time.
The first Community Shield was held in 2015 and has been contested six times since.

The Greens have won on three occasions, beating South Melbourne in 2016 and 2017, as well as beating Heidelberg United in 2019 and Hume City in 2020.
Bentleigh has been involved in all but one of the Community Shields played thus far.
The 2023 edition of the Football Victoria Community Shield is the first to be held since 2020, when the Greens triumphed on penalties.
The return of the shield sees reigning NPL Victoria champions Oakleigh Cannons appear in the curtain-raiser for the first time.
After an incredible 2022 season for the Cannons, Oakleigh has further strengthened its line up announcing a number of high-profile acquisitions.
Stefan Valentini and Brandon Lundy arrive from Avondale FC, whilst they have also signed Cameron McGilp (Dandenong Thunder), Alex Salmon (Green Gully) and Brodie Boyce (Peninsula Power).
Significant outs include Matthew Foschini, who announced his retirement from this level of the game and Mario Barcia, who will be taking on his old club in the Bentleigh Greens jersey.
The Greens have undergone a significant transformation themselves heading into the new season, with Petr Tichy leading the team as Senior Coach.
The Club has welcomed a number of exciting new players, with Barcia amongst a crop of new Greens' talent for our fans to get excited about.
Scott Hilliar adds significant experience to our back-line, whilst we welcome exciting Western Australian talents in Manase Abandelwa and Thiak Kuel into the team. 
Jackson Morgan brings a big presence into midfield as well.
The 2023 edition of the Community Shield sees Football Victoria partner with the Reagan Milstein Foundation (RMF).
Football Victoria and the Reagan Milstein Foundation are joining forces to send used and new sports equipment to people in need all over the globe. At the 2023 Community Shield on Friday, February 10, FV is inviting members of the Victorian football community to donate their pre-owned gear. Through this partnership since 2010, RMF has been able to give out more than $800,000 worth of sports supplies.
If you're attending the game on Friday, be sure to think about any pre-owned gear you'd be happy to donate to a great cause.