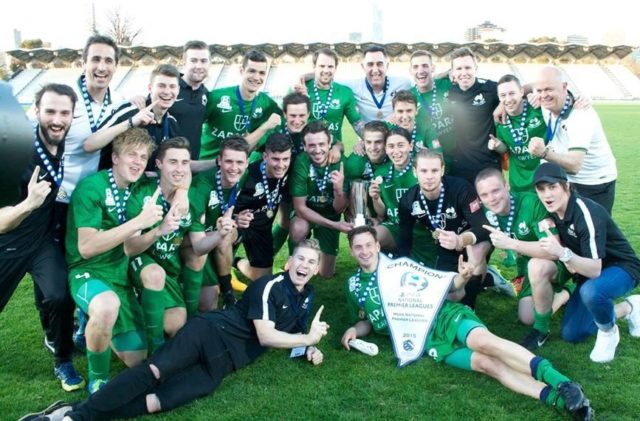 Bentleigh Greens have won the 2015 Victorian National Premier League Grand Final with a 3-1 extra-time win over South Melbourne at Lakeside Stadium on Sunday.
The scores were locked at 1-1 at the end of the 90 minutes with goals from Troy Ruthven for Bentleigh and then Milos Lujic for South with the game to be decided in extra-time. Greens captain Wayne Wallace put Bentleigh ahead in the first period of extra-time before Christopher Lucas sealed the result the dying stages of the game.
South Melbourne had to play the last 30 minutes of the 120 without IqiJawadi, who got himself sent-off after receiving a second yellow card for a foul on man-of-the-match Tyson Holmes.
Bentleigh showed attacking intent early in the game with a Holmes strike blocked and cleared before South went close at the other end through captain Michael Eagar.
Daniel Visevic hit a shot just wide for Bentleigh while Jawadi directed his strike minutes later into the hands of Greens goalkeeper Alistair Bray.
The second-half started with a bang with Bentleigh opening the scoring on 51 minutes. And what a way to do so, with Ruthven's long-range effort going into the top corner of the goal.
Bentleigh really should have doubled their lead 90 seconds later but Lucas could not capitalise on an Eagar slip, poking the ball over the bar from close range.
Things went from bad to worse for South Melbourne when goalkeeper Nikola Roganovic was forced off on 64 minutes after picking up a knock minutes earlier.
Fraser Maclaren went in-between the sticks for South and immediately proved his worth with a brilliant save from Holmes.
However, despite not testing the Bentleigh goal as much as they would have liked, South found an equalising goal through their top-scorer for the season Lujic.
Bentleigh continued to push for a late-winner to avoid having to play extra-time but two efforts from Lucas failed to find the back of the net.
Jawadi's sending off right on the stroke of full-time made the task that much harder for South with coach Chris Taylor already using up all three of his substitutes.
Jamie de Abreu was guilty of spurning a great chance for Bentleigh after cutting inside but it mattered little with Wallace finding the net just minutes later.
The captain poked home from a free-kick to give Bentleigh the goal they deserved.
Bentleigh coach John Anastasiadis made his first substitution at the start of the second period of extra-time and Austin Wong made his impact immediately.
The young forward picked up a yellow card seconds after coming onto the pitch before having a shot saved by Maclaren, but his fresh legs gave Bentleigh the edge when they transitioned into attack.
As legs tired more opportunities were being created, with Lucas finally sealing the championship with a goal on 120 minutes.
Winning coach John Anastasiadis said: "I thought today we were the dominant side from the first whistle.
"Throughout the first 90 the game should have been done and dusted then.
"South are a team that always find a way. In the end Bentleigh Greens deserved the win."
MATCH DETAILS

South Melbourne: 1. Nikola ROGANOVIC (22. Fraser MACLAREN 64'), 2.Shpetim MALA, 4. Michael EAGAR, 5. Luke ADAMS, 8. Mathew THEODORE, 9. Milos LUJIC, 11. Bradley NORTON, 12. Iqbal JAWADI, 27. Leigh MINOPOULOS (10. David STIRTON 59'), 7. Nick EPIFANO, 77. Steve HATZIKOSTAS (23. Andy KECOJEVIC 67').
Unused substitutes: 14. Chris IRWIN, 21. Jake BARKER-DAISH.
Yellow cards:Jawadi 61', 90'
Red cards:Jawadi 90'
Bentleigh Greens: 21. Alistair BRAY, 6. Liam MCCORMICK (17. Ryan LOVE 121'), 5. Jack WEBSTER, 36. Steven TOPALOVIC, 11. Dion KIRK, 4. Troy RUTHVEN (22. Austin WONG 106'), 8.Wayne WALLACE, 10. Tyson HOLMES, 7. Jamie DE ABREU (12. Dimi MITROV 117'), 19. Daniel VISEVIC, 9. Christopher LUCAS.
Unused substitutes:1. Ryan SCOTT, 20. Marinos PANAYI.
Yellow cards: Webster 8', Ruthven 39', Wallace 97', Wong 106'
Red cards: Nil
© 2015 FourFourTwo Australia | This article was written by David Manuca and first appeared in FourFourTwo Australia on 13 September 2015.