Captain Carrigan roaring to go for Season 2023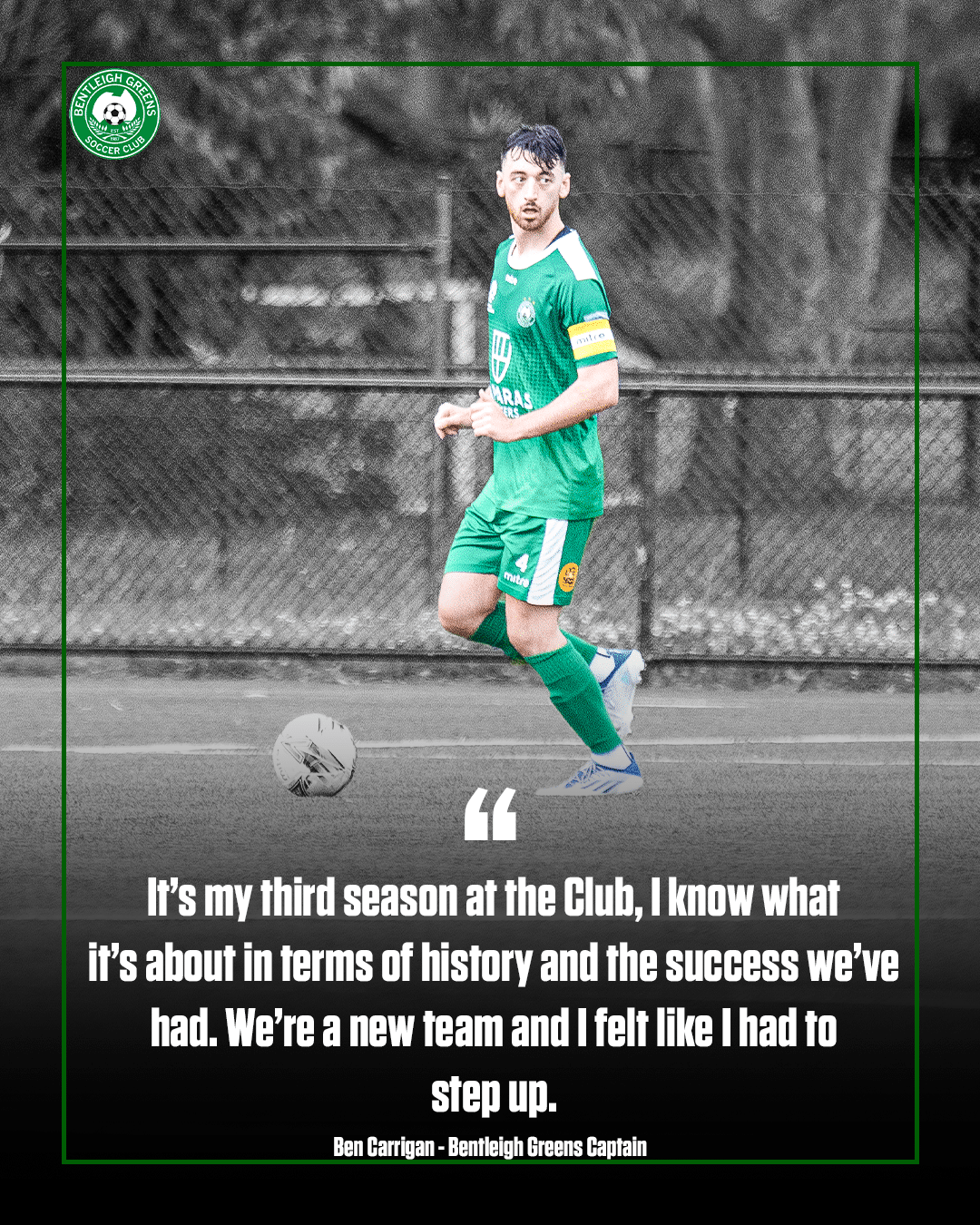 Ben Carrigan is chomping at the bit to lead his side out on Friday night when he leads the Greens out against North Geelong Warriors in Round One of the 2023 NPL Victoria season.
Bentleigh Greens have appointed Ben Carrigan as their new captain for the upcoming season. Carrigan, who was the deputy captain and part of the leadership group last year, is excited to take on this role and lead the new-look squad.
"It's my third season at the club, and I know what it's about in terms of history and the success we've had. We're a new team, and I felt like I had to step up.," he said. 
Carrigan also mentioned that having experience as the skipper of the youth team at Melbourne Victory before joining Bentleigh helped him prepare for this leadership role.
He believes that a winning mentality is crucial to keep the team focused and driven and he is committed to bringing that mentality and leadership to the squad in 2023.
"We need to be willing to make mistakes, to learn from them and make sure that we're taking positive steps each week, especially as a very new team," he said.
"With so many changes in the squad, there's a bit of getting used to one another, but the elements are there and we can see the potential, we just need to bring it together on matchday, starting on Friday."
The new captain is happy with the squad's progress, and he feels that starting the season with a win to build some confidence will be crucial to getting the team to play more fluidly. 
Carrigan is also pleased to have new signing and fellow defender, Scott Hilliar, on board. 
"We played for the first time together in the Green Gully pre-season game and I'm really happy to have him next to me," he said. 
"He's been a great contributor both on and off the pitch. He was one of the leaders at Avondale that he's brought to us, and he's been right on it. He's been really helpful."
Carrigan expects a tough game against the Warriors, but he is confident that the team will come out firing and start the season with a win. He is looking forward to playing in front of the fans again and is confident that their support will lift the team's performance. 
"I'm sure the fans will make some great noise as they usually do, and I'm sure I'll hear them on the park. I can't wait to play in front of them again in 2023."