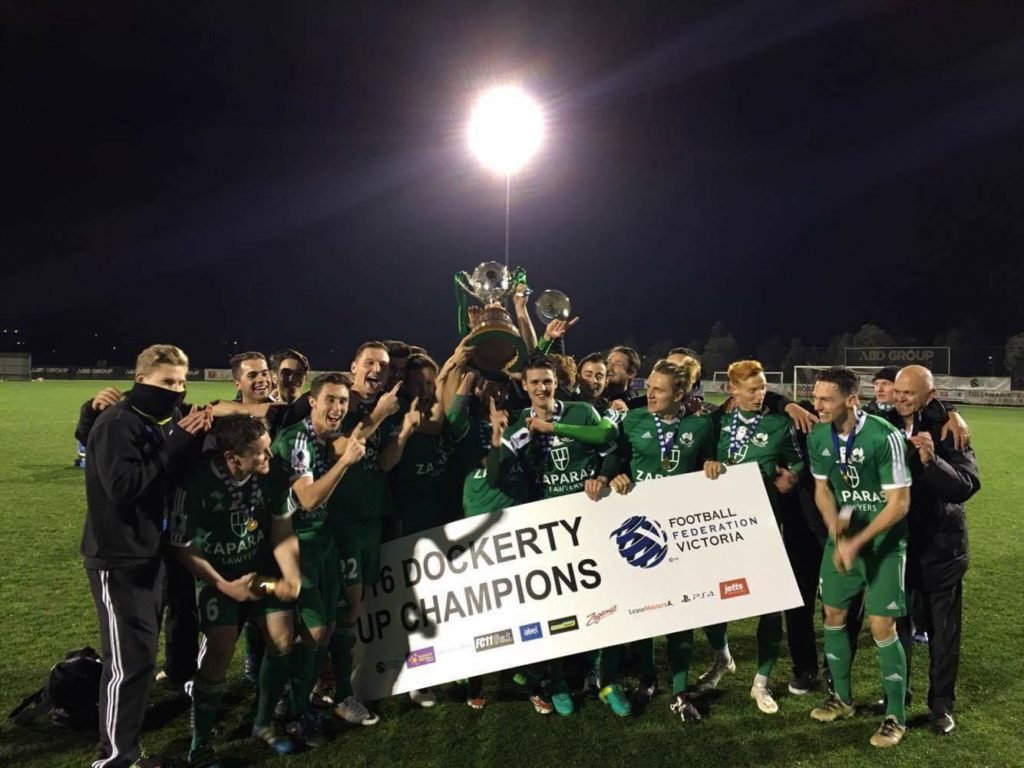 [vc_row][vc_column][vc_column_text]By Staff Writers
Bentleigh Greens won its first ever Dockerty Cup after an extra time winner from forward Ryan Paczkowski sealed a 1-0 victory at ABD stadium.
Both teams were locked at 0-0 after regulation time, requiring an additional 30 minutes to decide the winner of the 2016 edition of Victoria's oldest cup competition.
The deadlock was broken when Jack Webster played a long, lofted through-ball to find Paczkowski, who managed to poke the ball home past Rani Dowisha in the 92nd minute.
Coach John Anastasiadis was thrilled with the win and the team's performance on the night.
"I think we were superb today. From start to finish we were just fantastic and we played some great football.
"The boys from the start wanted it. They knew from the dressing room they wanted to win the game and we were fantastic today."
Bentleigh had to withstand a number of Gully attacks late on, including a great save by Ryan Scott to deny Evan Christodoulou from equalising.
The Greens did hold on and celebrations erupted after the referee blew the final whistle, crowning Bentleigh Greens 2016 Dockerty Cup champions.
The victory sees Bentleigh Greens pick up their second trophy of the season and are still a chance to win an unheralded quadruple, with the finals and league competition still on offer.
STARTING XI | Ryan SCOTT (GK), Dion KIRK, Ross ARCHIBALD, Jack WEBSTER (C), Luke PILKINGTON; Liam MCCORMICK (C), Troy RUTHVEN, Tyson HOLMES; Kieran DOVER, Ryan PACZKOWSKI, Kamal IBRAHIM
SUBS | Kile KENNEDY (GK), Josh BRINDELL-SOUTH, Nick APOSTOLOPOULOS, Brady QUINN, John MACLEAN[/vc_column_text][/vc_column][/vc_row][vc_row fullwidth="false" attached="false" padding="0″ visibility="" animation=""][/vc_row][vc_row fullwidth="false" attached="false" padding="0″ visibility="" animation=""][/vc_row][vc_row fullwidth="false" attached="false" padding="0″ visibility="" animation=""][/vc_row][vc_row fullwidth="false" attached="false" padding="0″ visibility="" animation=""][/vc_row][vc_row fullwidth="false" attached="false" padding="0″ visibility="" animation=""][/vc_row][vc_row fullwidth="false" attached="false" padding="0″ visibility="" animation=""][/vc_row][vc_row fullwidth="false" attached="false" padding="0″ visibility="" animation=""][/vc_row][vc_row fullwidth="false" attached="false" padding="0″ visibility="" animation=""][/vc_row][vc_row fullwidth="false" attached="false" padding="0″ visibility="" animation=""][/vc_row][vc_row fullwidth="false" attached="false" padding="0″ visibility="" animation=""][/vc_row]