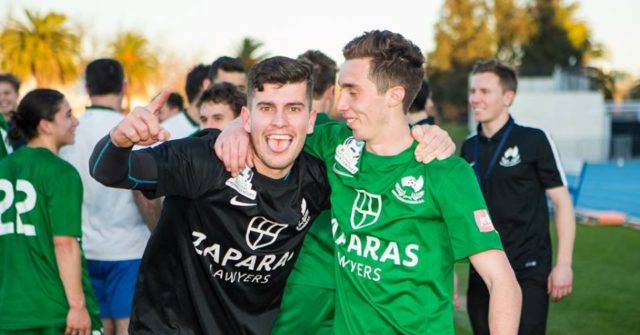 Bentleigh Greens SC is delighted to announce that it has re-signed five 2015 Championship winning squad members ahead the 2016 Victorian National Premier League campaign.
Captain Wayne Wallace returns for season 2016 alongside goalkeeper Ryan Scott, Luke Pilkington, Dion Kirk and Liam McCormick.
"It was important for us to retain a core group of our 2015 squad for next year," Bentleigh Greens CEO John Ioannou said.
"We're expecting to raise the bar next season and we're confident our squad – with a few new additions – will deliver for us."
The cohort joins Matt Thurtell, Chris Lucas, Jack Webster and Tyson Holmes who re-signed for the Club during the 2015 season.
Wayne Wallace, 31 (Joined Club – 2011)
23 games, 2 goals (105 games, 13 goals)
Luke Pilkington, 25 (Joined Club – 2011)
26 games, 1 goal (90 games, 2 goals)
Dion Kirk, 21 (Joined Club – 2014)
23 games, 0 goals
Liam McCormick, 22 (Joined Club – 2013)
26 games, 4 goals (72 games, 6 goals)
Ryan Scott, 20 (Joined Club – 2015)
3 games, 0 clean sheets