Match Report – Bentleigh Greens vs Altona Magic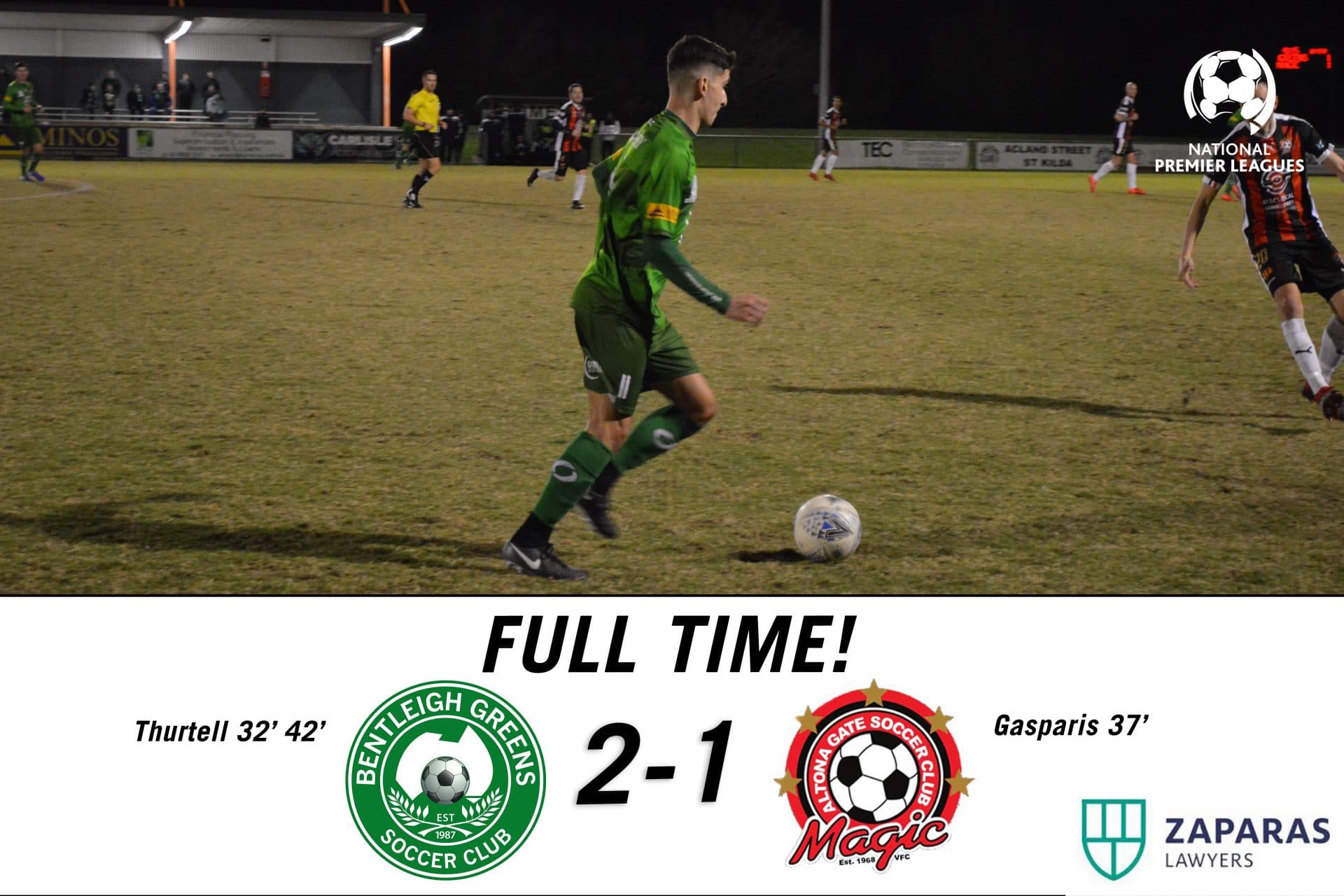 Sam Boyd
Bentleigh hosted Altona Magic at Kingston Heath on Friday night hoping to resurrect their season after suffering successive defeats to Dandenong Thunder and Oakleigh Cannons in recent weeks.
John Gabrielson made no changes to a line-up that failed to trouble the scoresheet in a 3-0 defeat to Oakleigh the week before.
As they did in recent weeks the Greens started the brightest of the two teams and had all of the early possession however didn't trouble Shane Vitakangas' goal. Just after 15 minutes Altona had the best opportunity of the early stages after a cut back found Marino Gasparis who forced a good save out of Ryan Scott diving to his left. Bentleigh recovered and on 32 minutes had their goal when Matt Thurtell drilled a shot from the edge of the area under Vitakangas and into the back of the net. It was just desserts for Bentleigh who had done all of the pressing early barring Gasparis' effort. 5 minutes later the Magic found themselves back in the game when a goal-mouth scramble lead to Gasparis burying his effort past Scott and Altona had parity. It wasn't long after in the 42nd minute when Bentleigh found themselves ahead again. Futa Nakamura received the ball striding towards the bi-line when he cut inside his marker, jinked back outside and then back inside again who then laid the ball off to Matt Thurtell who had no problem bringing up his brace after his effort came off the inside of the post and into Vitakangas' goal. The sides went into the sheds at 2-1.
The second half was a war of attrition in the middle of the park with neither side able to trouble the keeper at either end. The only chance of note came in the 83rd minute when James Xyidas marauded forward from right full-back. He lost his marker easily before unleashing a fizzer from outside the box that missed the left upright by a matter of inches. 2-1 it stayed to the Greens and Bentleigh collected their first 3 points since defeating Hume City 3 weeks ago.
Post game, head coach John Gabrielson stated it was a good team performance and was glad the team picked up the 3 points in trying conditions.
The Greens continue their home stand next weekend with a huge match on Friday night against a surging Heidelberg United.
Bentleigh Greens 2 (Thurtell 32′ 42′) Altona Magic 1 (Gasparis 37′)