Match Report – Oakleigh Cannons vs Bentleigh Greens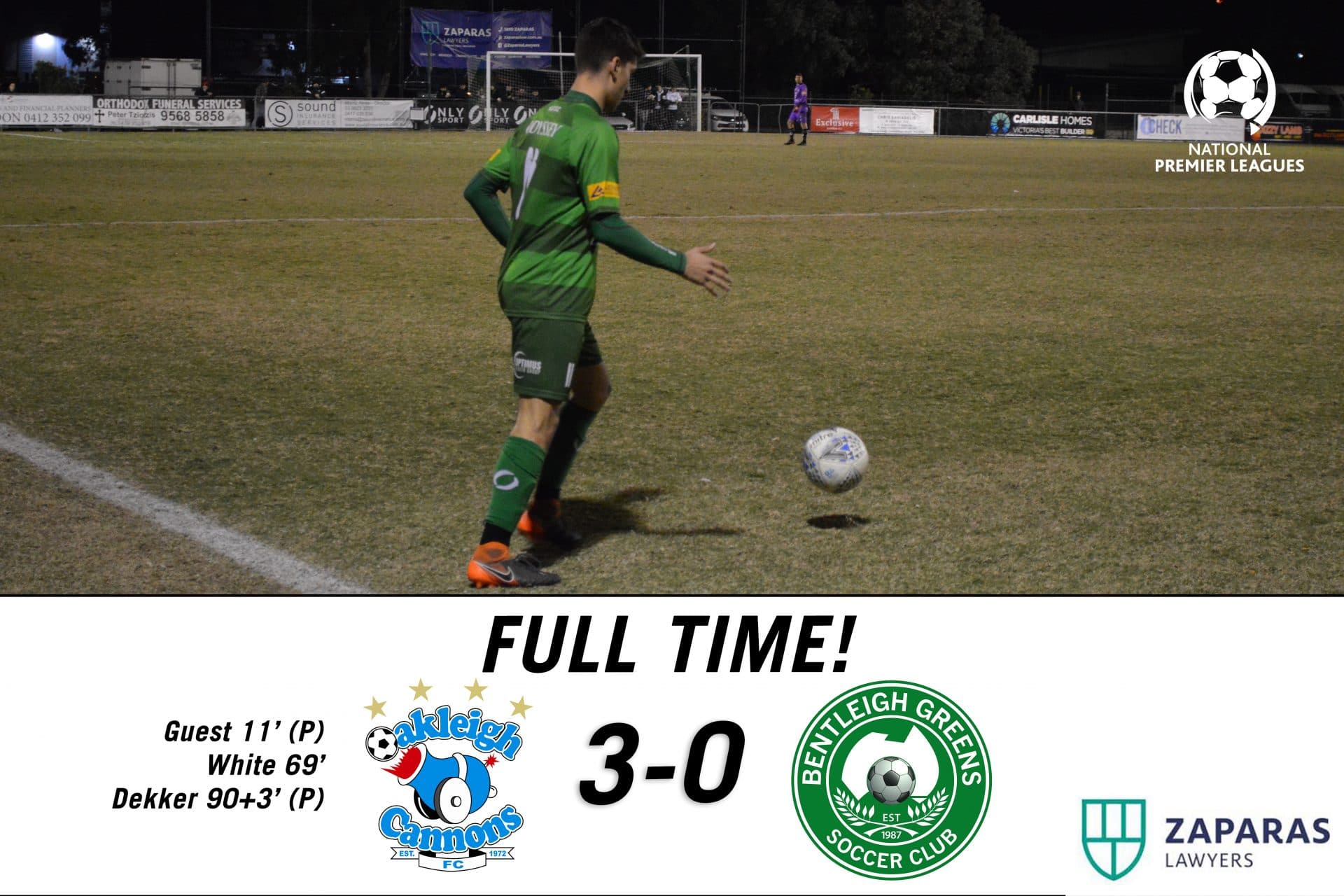 Sam Boyd
The Greens travelled to Jack Edwards Reserve in Oakleigh on Friday night in what shaped as a pivotal clash to help mould the look of the top 6 come the end of the season. Bentleigh who made 2 changes from the team that got defeated 3-1 the week before by Dandenong Thunder started brightly and had a multitude of chances in the early offerings. Tyson Holmes effort stung Oakleigh 'keeper John Honos' palms after neat work down the right hand side. 2 minutes later it was Josh Meaker's effort that went agonisingly wide after it took a huge deflection after he let loose from range. However, after the Greens' early onslaught it was Oakleigh who took the lead after 11 minutes. A scramble in the box saw Mario Ilich lunge in on Joe Guest after the Oakleigh attacker took a heavy touch and crashed to the ground, referee Shaun Evans had no hesitation pointing to the spot despite Bentleigh's protests. Bentleigh continued the hold most of the possession in the first half but couldn't muster any clear cut opportunities.
The 2nd half was a much more tighter affair with both sides holding possession for extended periods of time. The Cannons doubled their lead in the 69th minute when Harry White made the most of a goal mouth scramble and put the ball in the back of the net. 10 minutes later the Greens were handed a potential lifeline when marksman Matt Thurtell was bundled over in the box and was awarded a penalty, however, Honos guessed the right way and preserved Oakleigh's clean sheet. Oakleigh made sure of the result in the 3rd minute of injury time when Wade Dekker beat Ryan Scott, again from the spot and fired Oakleigh into a 3-0 lead with the last kick of the game. It was another disappointing result for the Greens who had the opportunity to close the gap at the top to 2 points as Avondale dropped points to Melbourne Knights earlier in the evening.
Next week sees the start of a 3-game home stand for the Greens back at Kingston Heath as we take on Altona Magic in Friday Night Football.
Oakleigh Cannons 3 (Guest 11′, White 69′, Dekker 90+3′) Bentleigh Greens 0