Match Report – Bentleigh Greens vs Melbourne Knights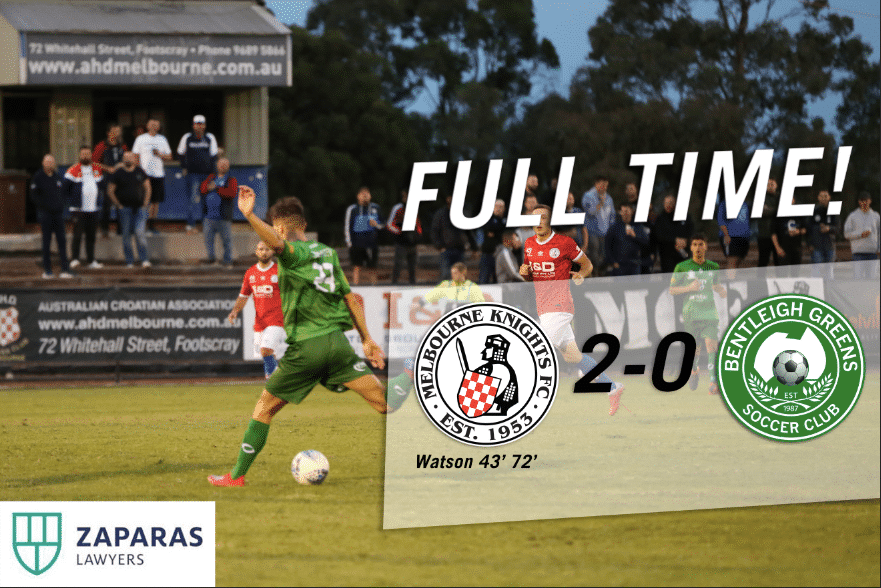 Sam Boyd
Bentleigh Greens travelled to Somers Street looking to continue their 3-game winning streak to start the 2019 NPL season.
The game was a tight affair in the opening stages with both teams creating a number of 'half chances'. Greens talisman Valentino Yuel created the most promising chances hitting the crossbar twice and putting another shot just wide of Harry Cakarun's right hand post. Hamish Watson also came close for the Knights, forcing a smart double save out of Greens custodian Ryan Scott. On the 43rd minute the game came to life with Watson putting the Knights in front heading into the break slotting one between Scott's legs from a tight angle.
The 2nd half followed suit and saw both teams creating a number of chances. Valentino Yuel crossed to Matt Thurtell who narrowly missed the ball which would have leveled proceedings had he got anything on it. The game heated up a notch after Matt Thurtell was tripped by Luke Jurcic on halfway which led to a yellow card, a scuffle broke out as a result of the challenge which saw Tyson Holmes booked as well as Knights skipper Marijan Cvitkovic. On the 72nd Hamish Watson delivered the hammer blow for the Knights who powered his shot into Scott's bottom right hand corner after being played through on goal, for his 2nd of the night and his 2nd brace in 4 games.
Post game, gaffer John Anastasiadis noted that "it was always going to be a tough gig here… I thought in the first half we were excellent, we hit the post twice… but if you don't take your chances and the other team does, you're going to lose the game."
The Greens are back at home next Friday Night as we take on Hume City at 8:15pm.
Melbourne Knights 2 (Watson 43′ 72′) Bentleigh Greens 0