Match Report – Bentleigh Greens vs Pascoe Vale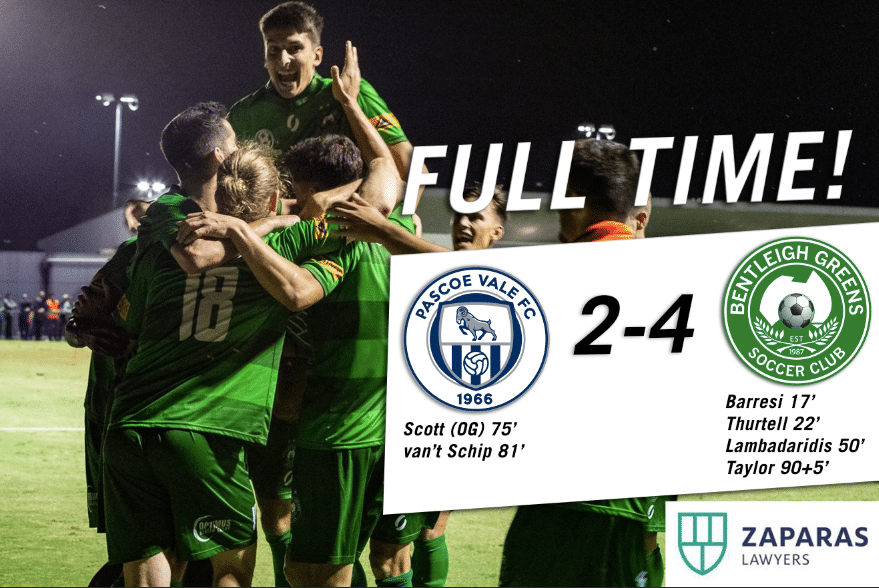 Sam Boyd
The Greens continued their perfect start to the 2019 NPL season with a victory over Pascoe Vale in a 6-goal thriller at CB Smith Reserve in Fawkner on Friday Night.
Josh Barresi continued his good run of form nodding home from a corner after 17 minutes. Barresi, who crossed over from Green Gully at the end of last season,  ghosted in to the near post before glancing his header past Paco custodian Nick Feeley.
Matt Thurtell then converted a penalty after it was adjudged that Barresi was brought down in the box after a neat run between the Pascoe Vale lines. Thurtell stepped up and blasted straight down the middle to send the Greens 2-up inside 25 minutes.
Before the end of the 2nd half Bentleigh had a number of other good chances but failed to capitalise and went into the break 2-0 up.
Bentleigh started the 2nd half as they finished the 1st and found themselves 3-0 up after 50 minutes when George Lambadaridis tapped home after a failed clearance from a corner fell into his lap.
Paco were then handed a controversial life line in the 75th minute. Tyson Holmes went down after a hefty challenge on half way, the resulting ball found Davey van't Schip who went past Marco Jankovic down the right channel and crossed into a waiting Ryan Scott who then parried the ball into his own net to make proceedings 3-1 with 15 minutes left to play.
5 minutes later Pascoe Vale were awarded a penalty after Joseph Youssef was adjudged to have been brought down by Marco Jankovic in the box. Davey van't Schip stepped up and had no problems sending Ryan Scott the wrong way to ensure the crowd of a grandstand finish.
93 minutes had passed when Paco found themselves down to 10 men after a rash challenge on Velibor Mitrovic by Calabria saw the referee produce a red card.
A sloppy turnover in midfield by Pascoe Vale then saw Jacob Alexander venture forward and play a ball into Matt Thurtell whose shot was blocked but the subsequent rebound fell on to Brody Taylor's right boot and he had no issue burying a 20 yard volley into the bottom right corner to send the Greens home with all 3 points and their 2nd win in 2 games.
Pascoe Vale 2 (Scott (OG) 75′, van't Schip 81′) Bentleigh Greens 4 (Barresi 17′, Thurtell 22′, Lambadaridis 50′, Taylor 90+5′)