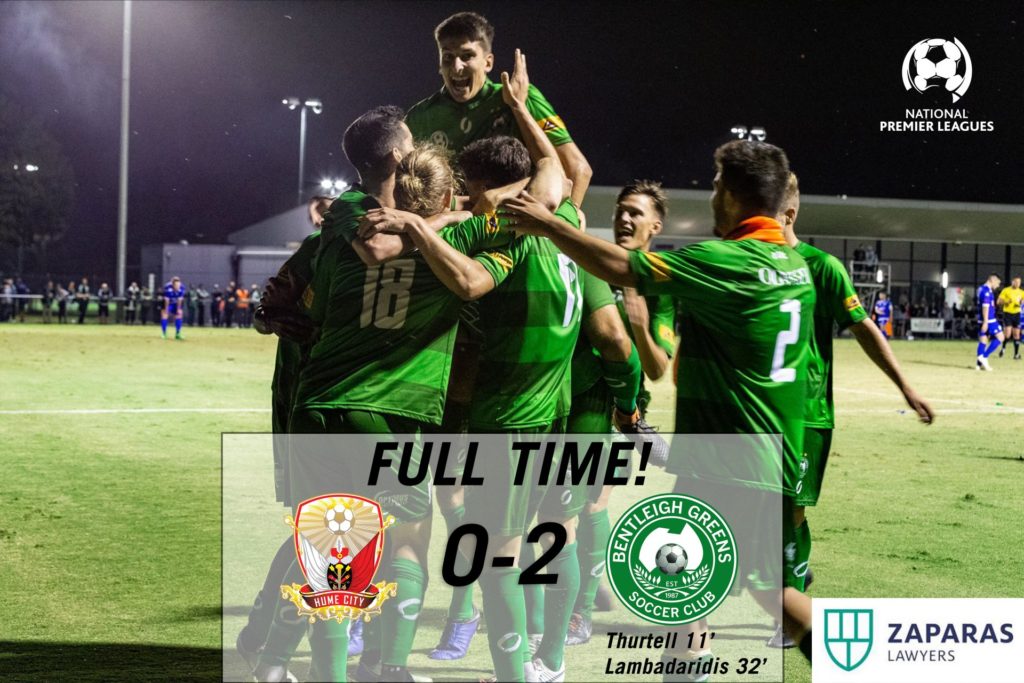 Sam Boyd
Bentleigh travelled to Broadmeadows on Friday Night to take on Hume City with an eye on keeping pace with Avondale at the top of the league. The hosts started fast with an effort fired in from range forcing Ryan Scott into a smart save within the first 5 minutes, the eventuating follow up was blasted wide by Hume marksman Marko Delic. 11 minutes had past when the Greens found the break through. Neat combination play down the right hand side between Japanese import Futa Nakamura and the in-form James Xydias resulted in Xydias darting a ball across the 6 yard box and finding Matt Thurtell who timed his late run to perfection and slid the ball past Michael Weier to fire Bentleigh into a 1-0 lead. Bentleigh followed up their opener with a few chances but failed to capitalise on their opportunities. However, on 32 minutes the Greens had their 2nd with a goal of the season contender. After minutes of domination in midfield the ball was recycled to the back through Marco Jankovic, he took his time on the ball and found Webster who took 2 touches and passed to Tyson Holmes, Holmes then settled in midfield and hit Mario Ilich's feet in stride who sliced through Hume backline and found Futa Nakamura down the right hand channel, Nakamura cut back to George Lambadaridis who made no mistake from close range to give the Greens a 2-0 lead. It was champagne football from Bentleigh.
Following the restart it was battle of attrition in midfield with neither side creating any thorough chances to trouble the scorers. The game finished 2-0 to Bentleigh who kept consecutive clean sheets for the first time this season.
The Greens now push on to next weekend where they take on South-Eastern rivals Dandenong Thunder in a pivotal game at Kingston Heath.
Hume City 0 Bentleigh Greens 2 (Thurtell 11′ Lambadaridis 32′)