Thank You, Jack: Long-serving Bentleigh Greens captain Jack Webster departs Kingston Heath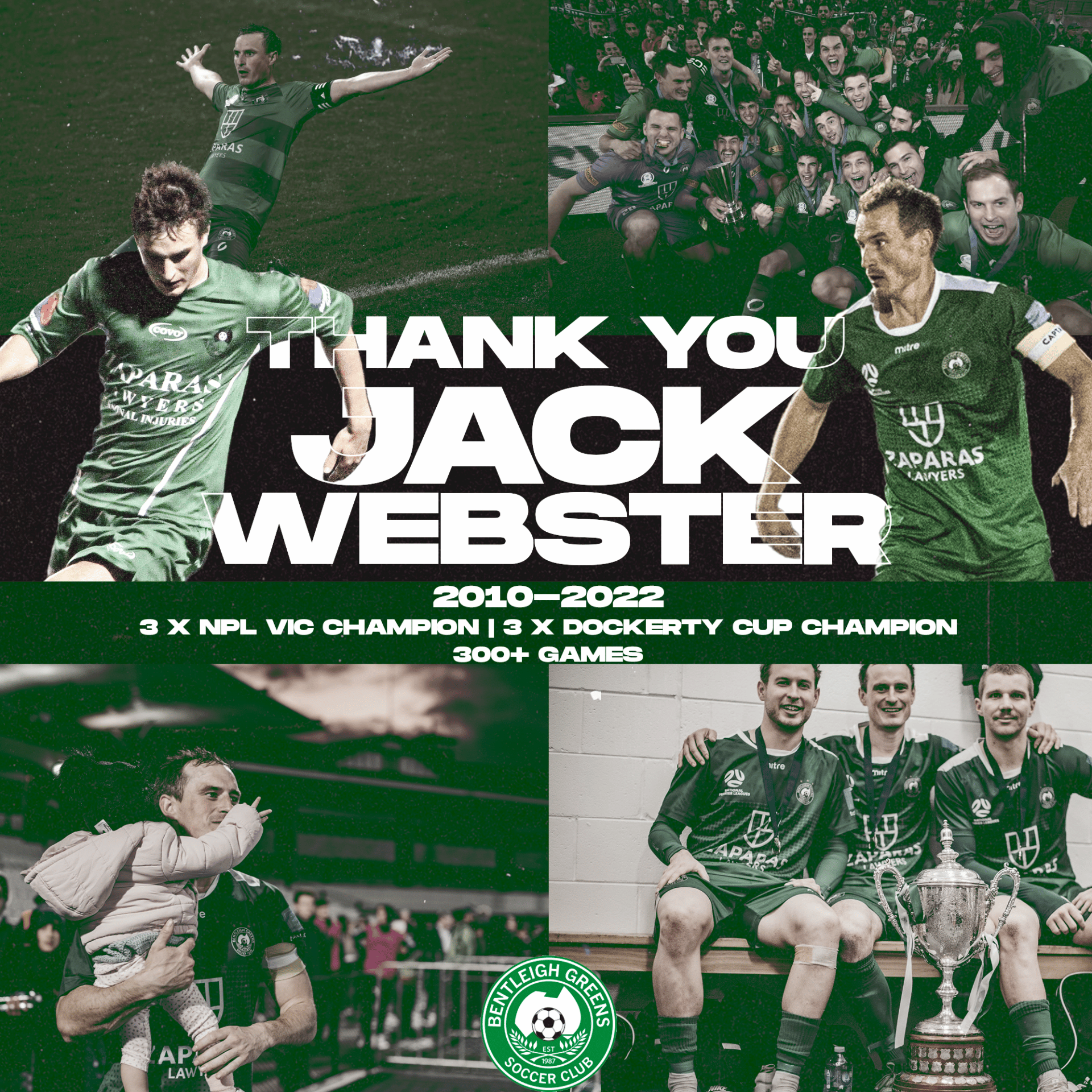 The Bentleigh Greens would like to acknowledge the departure of club great Jack Webster, who departs the club following the 2022 season.
Webster has been a giant of the Greens since arriving at the club in 2010, eventually becoming a 300+ game champion of the club, winning multiple honours and being a mainstay of the Greens in our most successful era.
The centre-back won his first title with the Greens in 2015 when Bentleigh was crowned Victorian Premier League champions for the first time.
It was the first piece of silverware he would win for the club, but it would prove far from the last.
The Greens won the Dockerty Cup for the first time in 2016, a season which also saw them finish top of the league.
In 2017, there was more glory for the Greens and Webster as they took out the NPL Championship again.
The Dockerty Cup was recaptured in 2018, and the NPL Championship won again in 2019 – the third time the Greens and Webster had one the ultimate prize in Victorian football in five seasons.
The COVID years of 2020 and 2021 undeniably robbed Webster of even more appearances in the Green, but he ensured that he didn't finish what would prove to be his final season at the club empty-handed, captaining the Greens to Dockerty Cup glory once again in 2022.
Other highlights of Webster's incredible 13-year stint at the Greens include four Community Shield wins (2016, 2017, 2019, 2020), Dockerty Cup runners-up (2017) as well as several appearances in the national rounds of the Australia Cup, including a semi-final against Perth Glory in 2014 and the unforgettable 1-0 win over Wellington Phoenix in 2018.
Webster said that leaving the Greens would be difficult, but he was thankful for all the memories made with wonderful people.
"I have loved being at the Greens," he said.
"It was an honour to Captain the Club and to play there for so long. The memories that have been made will last a lifetime, and it was amazing to be part of so many trophies and so much success.
"I'd like to thank the coaches who I have played for and all the players I have played with. Most of all, I'd like to thank the Bentleigh fans. 
"I would also like to say a big thank you to everyone that has been part of my time at Bentleigh Greens Football Club, both past and present. Bentleigh has been a great part of my life for over a decade, and for that, I am very grateful. 
"I will miss a lot of the guys around the club for sure.
"I wish the club all the best in the future."