Tichy: 90 minutes can change our season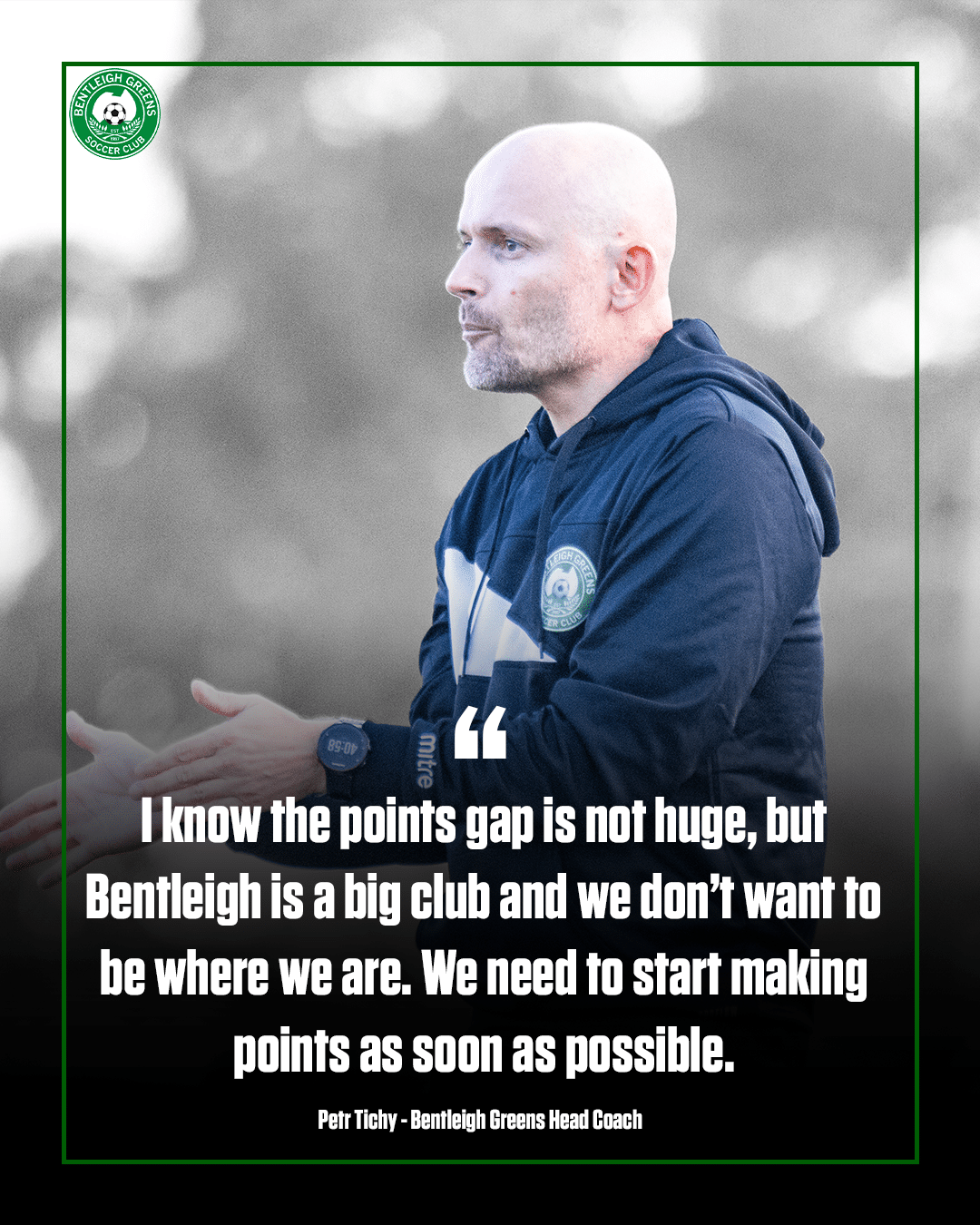 As the Bentleigh Greens look to turn their season around, Senior Men's Coach Petr Tichy is confident that the return of three key players will make a big difference for the Greens when they take on Heidelberg this evening.
"The last couple of weeks, the results are not there, and we have to grind to turn them around," Tichy said. 
"A turning point for us last week was that we were missing some key senior players, we really missed Alex [Baker], Mario [Barcia] and Ben [Carrigan], particularly from that defensive aspect, but still, I think it's clear that last week wasn't what we expect."
Despite the setback, Tichy is optimistic about the team's chances against Heidelberg United, saying, "This week, as I said, with those three senior players coming back into the mix, we're looking to look much stronger defensively and better defensively.
"If we're stronger defensively, we can have more confidence going forward, and so I'm expecting with the stronger defence, we will be more productive going forward."
Tichy said that Heidelberg's win over South Melbourne last week – the first time South had lost all season – should inspire the boys and help them realise they're only 90 minutes away from turning their season around, particularly in an NPL Victoria competition that is so tight.
"Before the game against South Melbourne, Heidelberg were big underdogs in terms of who would win. It's probably the last team you would expect would beat them, especially in an away game. But they played their own game and scored the goals they could."
However, Tichy stressed that the Greens are only focused on what they can control. "As I said, we only worry about what we can control from our end. That being said, we know we need to be much better defensively.
Despite being underdogs themselves, Tichy believes that there's no reason why the Greens can't come away with a win. "There's no reason why we can't beat them. Before the game, it probably looked impossible for Heidelberg to win, but they pulled it out. It's definitely something that I'll remind the boys – nothing is impossible and we don't go there already beat. Now we keep fighting until it's the last whistle of the game."
Acknowledging the team's poor start to the season, Tichy is determined to turn things around. "Of course, we're mindful of where we are at the bottom, and from there, we can only go up. I know the gap is not huge, but I understand that Bentleigh is a big club, and we need to start making points as soon as possible. There is no hiding the fact that the start of the season was bad, and we're trying to turn it over as soon as we can."