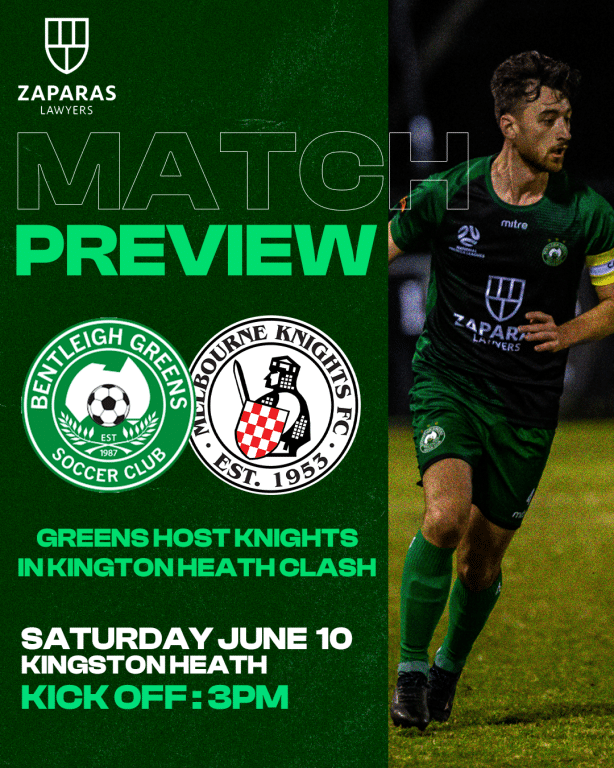 NPLVIC Round 17 brings an opportunity for the Bentleigh Greens to turn their season around as they face off against Melbourne Knights FC at Kingston Heath Soccer Complex on Saturday, June 10 at 3:00 PM. After a disappointing loss last week, both teams will be eager to secure three points and regain their winning form.
The Greens had a promising start against Green Gully SC but ultimately succumbed to a 3-1 defeat. Despite taking an early lead, they were unable to maintain their advantage, leaving them hungry for redemption in this upcoming clash. The Knights, too, faced defeat in their last match, falling 2-1 to South Melbourne FC. Both teams will be determined to bounce back and showcase their true potential.
This will be the third encounter between the Greens and the Knights this season. In their previous league meeting, the Knights secured a narrow 1-0 victory, courtesy of a Gian Albano penalty after a red card reduced the Greens to ten men. Additionally, the Knights emerged victorious with a 2-0 win in the Australia Cup clash. The Greens will be motivated to reverse their fortunes and leave their mark on this encounter.
Notably, the Greens will be without the services of Scott Hilliar due to his red card last week, adding to the challenge they face. However, the team remains focused and determined to rise above adversity. The return of key players and tactical adjustments will play a crucial role in their pursuit of victory.
With both teams striving to climb the ladder and secure vital points, this match promises an intense battle on the field. The Greens will look to exploit their home advantage and rally their passionate supporters to create a vibrant atmosphere at Kingston Heath Soccer Complex.
As the season progresses, every point becomes crucial, and the Greens are fully aware of the significance of a positive result. A victory in this game would provide them with much-needed momentum and a chance to climb up the ladder. The determination to overcome recent setbacks and showcase their true potential will be the driving force behind the Greens' performance.
Get ready for an enthralling clash as the Bentleigh Greens aim to redeem themselves against Melbourne Knights FC. Join us at Kingston Heath Soccer Complex on Saturday to witness an exhilarating display of football and support our Greens in their quest for victory.